Educators
As a teacher or school administrator, do you have an application idea that just needs a programmer to build it? We can provide the expertise to turn your idea into a reality.
If you are a school or county administrator looking for a county wide portal for your teachers, students, or parents to track grades, homework, activities, or just to communicate with one another, we are skilled at developing custom applications that will be more useful and cost effective than most big ticket solutions currently on the market today.
BSC is proud to help with our students' success in any way we can. There is no project too small. We can develop a PTA website for your county, city or private school. We even design games that utilize classroom subject matter as clues or incentives to make learning fun!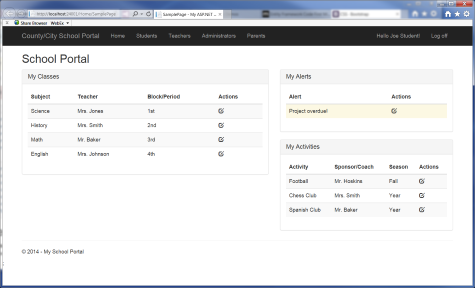 We call them Learning Portals and each learning group (district, county, city, school) has their own ideas. We can build out a Learning Portal to your specifications. Some options to choose from: grades, chat rooms, discussion forums, homework turn-in, test and quizzes, clubs, teams, parent notifications, instructional, games and much more.